VR Pakistan is changing the dynamics of orating Islamic history
VR Pakistan is changing the dynamics of orating the history of Islam digitally through virtual reality. 
There was a time when people imagined historical and Islamic events by reading books. Later, the movie revolution occurred, allowing people to see events in color, and now, with the help of virtual reality, people can feel as if they are present in the moment.
VR Pakistan is a subordinate of VR Karbala in Denmark. This virtual reality-based organization aims to construct an accurate recreation of the historical battle of Karbala using VR animation. Using virtual reality, the user's bodily presence will be replicated in the sorrowful events of Karbala, providing a unique user experience.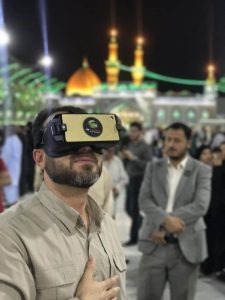 VR Pakistan is a revolutionary approach to remembering and comprehending the tragedy of Karbala. Being the partner of VR Karbala, the initiative holds annual events in more than 27 countries throughout Muharram and Arbaeen. Virtual reality has now allowed over 65 million people to experience the tragedy of Karbala and other Islamic events.
Through virtual reality programs being conducted across Pakistan and Iraq, one can witness the events of Karbala and other Islamic events in 360°, and the surround sound gives a 3D experience to a user.
It was noted that through the programs conducted by VR Pakistan during the months of Muharram and Safar, people couldn't control their emotions and could not bear a virtual reality event happening before their eyes. Kids under 12 and senior citizens are not allowed to use VR glasses, as such events can cause trauma. One more thing to note here is that soft-hearted people are also not encouraged to use VR glasses, as the events look quite real.
We sneaked into a VR program during Muharram, and believe me, the atmosphere was decorated in a way that gave us a feeling as though we were in the past. As life moves ahead, things get changed or replaced by better innovative ideas.
While talking to the crew of VR Pakistan, prominent team members,  Ali Muraza and Danish Ali shared their views with Wire Examiner where they mentioned that as technology advanced, they wanted to take full advantage of it.
"We have a policy that kids under 13 cannot wear the VR glasses, but our team is working to create animated Islamic stories for kids that would educate them about the history of Islam. Our team aims that instead of watching other unwanted cartoons, kids should evolve by watching these animated stories which will benefit them in the future, " Ali Murtaza added.
Team VR Pakistan has conducted around 15 virtual reality Islamic programs in less than a year. 14 programs have been conducted in Karachi, one in Pano Aqil. On December 18, VR Pakistan is going to hold an event at the Jamia Ali Masjid, Wafaqi Colony. So if you are a resident of Lahore, I would recommend that you grasp this opportunity.
Here is the trailer for the upcoming VR Pakistan event in Lahore:
Moreover, you can find VR Pakistan on their social media platforms, such as Facebook, Twitter, and Instagram.
VR Pakistan is administered by the youth, who are mostly students. Virtual reality is indeed the best platform to relive historic Islamic moments. Common citizens, Islamic clerics, and people with different professions of life should join this campaign to promote the Islamic culture in Virtual Reality.